In 2021, Crystan McLymore was a nuclear surface warfare officer in the U.S. Navy, in charge of more than 30 mechanics maintaining the systems and safety of a nuclear reactor aboard the USS Gerald R. Ford aircraft carrier. Two years later, she is excelling in a completely different world, if possibly in service to those working on a nuclear ship. McLymore has just completed a master's degree in mechanical engineering at MIT, after participating in research on an ingestible device that can detect radiation in the gastrointestinal (GI) tract.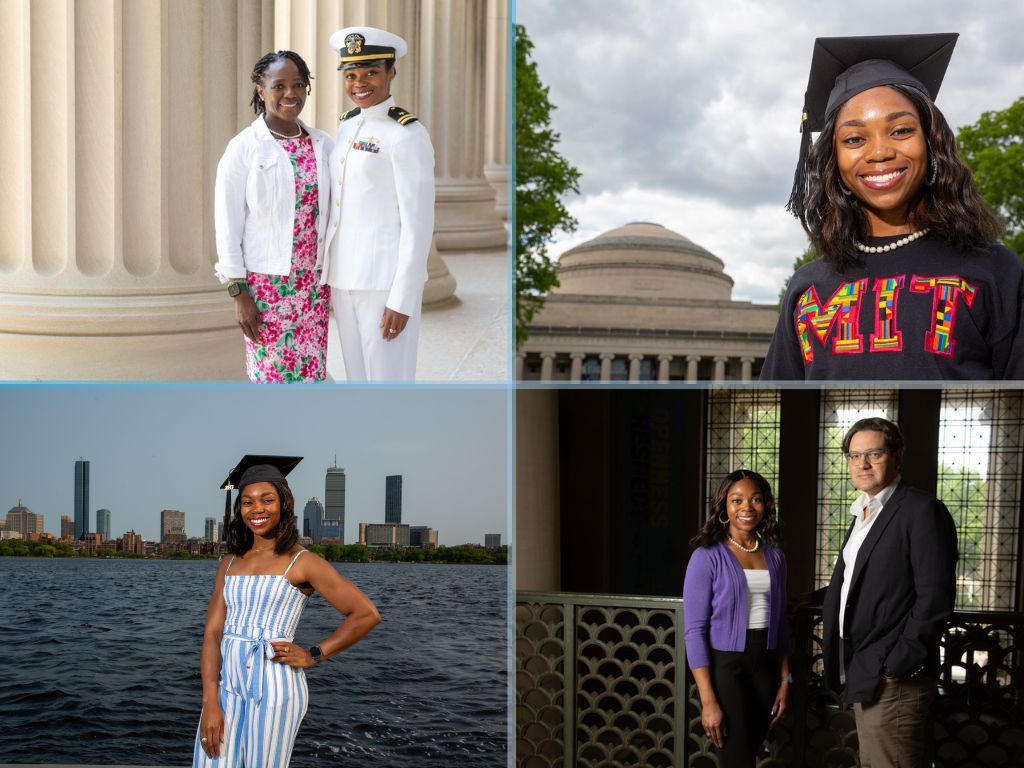 Top Left: Crystan (right) with her mother, Crystal Wright | Top Right: Crystan in Killian Court in front of the Great Dome wearing her graduation cap | Bottom Left: Cystan at the waterfront along the Charles River with the Boston Skyline in the background. | Bottom Right: Crystan McLymore, left, with Giovanni Traverso, associate professor of mechanical engineering. "As someone who started her research career only two years ago, to reach this level is a testament to her dedication and drive and incredible perseverance throughout her degree," says Traverso. Image Credit: Tony Pulsone
In the lab of Giovanni Traverso, associate professor of mechanical engineering, McLymore and her fellow researchers were able to test their ingestible radiation-sensing capsule in vitro and in live pigs, finding that its abilities worked within the pigs' stomachs — a demonstration that could be helpful in radiation therapy used to combat cancer in humans, where precise targeting and minimizing damage to the GI tract can save lives.
"The in vivo study was the best part," says McLymore, pointing out that pigs are large mammals with digestive systems similar to human digestive anatomy. "Our device can actually be an asset within living people."
McLymore, 29, was raised by a single mother in Raleigh, North Carolina. Growing up, she found she could do calculations very quickly and liked the certainty of math. During her eighth- through 10th-grade summers, she took STEM classes at Duke University as part of Duke's Talent Identification Program, which introduces high school students to advanced academics and to other talented students.
Just before McLymore's senior year in high school, she was approached by the U.S. Naval Academy, where she decided to pursue an undergraduate degree in applied mathematics. She commissioned as a Navy officer upon graduating.
About five years later, McLymore was given an opportunity to attend graduate school through the Navy. She chose mechanical engineering, hoping to study biomechanics because she had always wanted to contribute to the medical field. With her excellent record in the Navy and academic abilities, she was offered a two-year fellowship to attend graduate school full-time, and she chose to apply to MIT's Department of Mechanical Engineering (MechE), even though she says she was daunted by the 6 percent acceptance rate she faced.
McLymore says her mother told her, "You've got to apply. Let them tell you no."
In fact, MIT told her yes, and once she was accepted, she contacted Traverso, who thought her background as a nuclear officer was a perfect fit for the ingestible radiation detector project. For her part, McLymore says the project aligned with her interests and also had good potential for military application, in that service members such as those working on nuclear ships run a heightened risk of being exposed to radiation.
Being in an academic program was a big change for McLymore, if only because her schedule was entirely her own, she says. At the same time, the problem-solving skills she had developed in the Navy — where "you're in charge of a whole bunch of people, there's always going to be problems, and you have to present your boss with solutions" — worked well with the problem-solving aspects of biomechanics research.
McLymore did so well on the radiation detector project that she recently walked away with a "Best Oral Presentation" award, having presented the research alongside more than 500 international experts and students at a major engineering conference in Jeju, Korea.
"I was like, OK, everyone here is smart, of course. Everyone has good ideas, and this is my first conference, so I don't have many expectations. I'm just here to learn and absorb," McLymore says about the IEEE Nano/Micro Engineered and Molecular Systems conference.
When her name was called out as the presentation award winner, she says she was shocked. "Then, after walking up on stage, I was proud that I had this sort of validation that what we'd done was recognized."
Traverso, who has been McLymore's faculty advisor at MIT, says her unique background and her stamina were assets to his lab's research and helped propel her to success.
"We aim to bring together team members with diverse skill sets to tackle major challenges. Crystan is an extremely effective team member and drives forward while integrating knowledge from across a range of areas," Traverso says. "As someone who started her research career only two years ago, to reach this level is a testament to her dedication and drive and incredible perseverance throughout her degree."
McLymore was also recognized with a Keck Travel Award to attend the conference in Korea and a Wunsch Foundation Silent Hoist and Crane Award for excellence in a graduate student.
Now, following her graduation from MIT, McLymore is committed to another five years of sea duty with the Navy. She is unsure of what will come next.
"Then I'll be at another crossroads," McLymore says. "I'm open to whatever career path or opportunity comes my way."