Healthy and fast food are two terms that seem in conflict. Add delicious and it seems downright impossible. But that's exactly what T.K. Pillan '90 set out to create when he started Veggie Grill in 2006. The 100 percent plant-based, fast-casual restaurant has now become the largest vegan and vegetarian restaurant company in the U.S.
Although Pillan started his career in computer systems after graduating with a degree in mechanical engineering, he decided to start a business that helped to tackle health and wellness.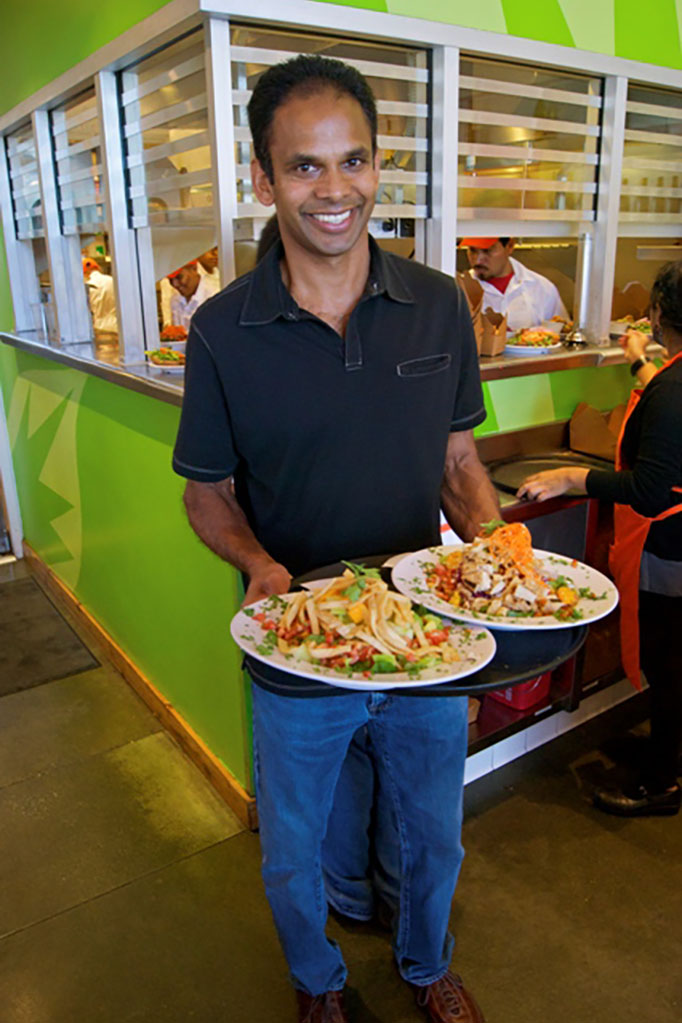 T.K. Pillan '90, a mechanical engineering major while at MIT, now runs the largest vegan/vegetarian restaurant company in the U.S.
"I saw the issues in the country around obesity, diabetes, cancer, health care costs, dependence on pharma, and I wanted to create a business that would help be part of the solution," he says. "Personally, I was struggling to go out and find healthy, delicious, convenient food."
In his quest to discover what convenient, healthier eating could look like, Pillan first found that the niche vegan restaurants in his surrounding communities in California actually had tasty food. Then he researched and personally proved the health benefits of plant-based eating by changing his own diet. After deciding that plant-based fast food could be a great way to achieve a healthier lifestyle, Pillan set out to package it in a fun, friendly, approachable way so that it would appeal to all audiences — vegan or not.
"I developed a passion for creating a brand and concept that would take vegan food from the niche to the mainstream," says Pillan. "We aren't suggesting everyone has to be a vegan. What we're doing is helping accelerate the shift in people's view towards plant-focused eating by making it delicious and enjoyable. We chose to use the term 'veggie' consciously. For us, it's all about celebrating the vegetable. And no one can argue that they shouldn't be eating more veggies."
Veggie Grill's mainstream approach to vegan food paid off. The company — which was named one of the 25 Most Innovative Consumer Brands of 2016 by Forbes — now has 28 locations and plans to double in the next couple of years, including two planned for Chicago by the end of the year. And don't worry, Bostonians, he's looking here too.
Pillan has now passed many day-to-day activities off to the Veggie Grill leadership team that helped build and spends a large majority of his time trying to help other like-minded companies get off the ground as co-founder and managing partner of Powerplant Ventures, a fund that identifies and supports other companies driven to "leverage the power of plants to deliver better nutrition in more sustainable and ethical ways," he says. "The whole macro thesis around Powerplant is to help reform our food system and help companies that are leveraging the power plants to do so."
Read more stories like this in the Slice of MIT blog.