MIT Society of Women Engineers' journey into virtual connection
When the student body was sent home last March in the face of the Covid-19 pandemic, the MIT Society of Women Engineers (SWE), one of the largest student organizations on campus with over 400 undergraduate and graduate student members, faced its biggest challenge yet — transitioning nearly 70 in-person programming events to an entirely virtual experience.
The group worked tirelessly throughout the summer — when most MIT clubs and organizations were not in session — on ways to adapt and run all of their customary SWE events without jeopardizing the quality of the organization or scrapping programs completely. Members of the group discovered innovative ways to adjust and adapt in order to maintain everything in a virtual setting.
"From the executive team, all the way to our general members, everyone had a positive outlook on our situation and was willing to put in the work." says Koumani Ntowe, a senior in biological engineering and MIT SWE co-president. "It just shows the impact that this organization has had and how much our members are committed to ensuring it continues to function and run in a virtual semester."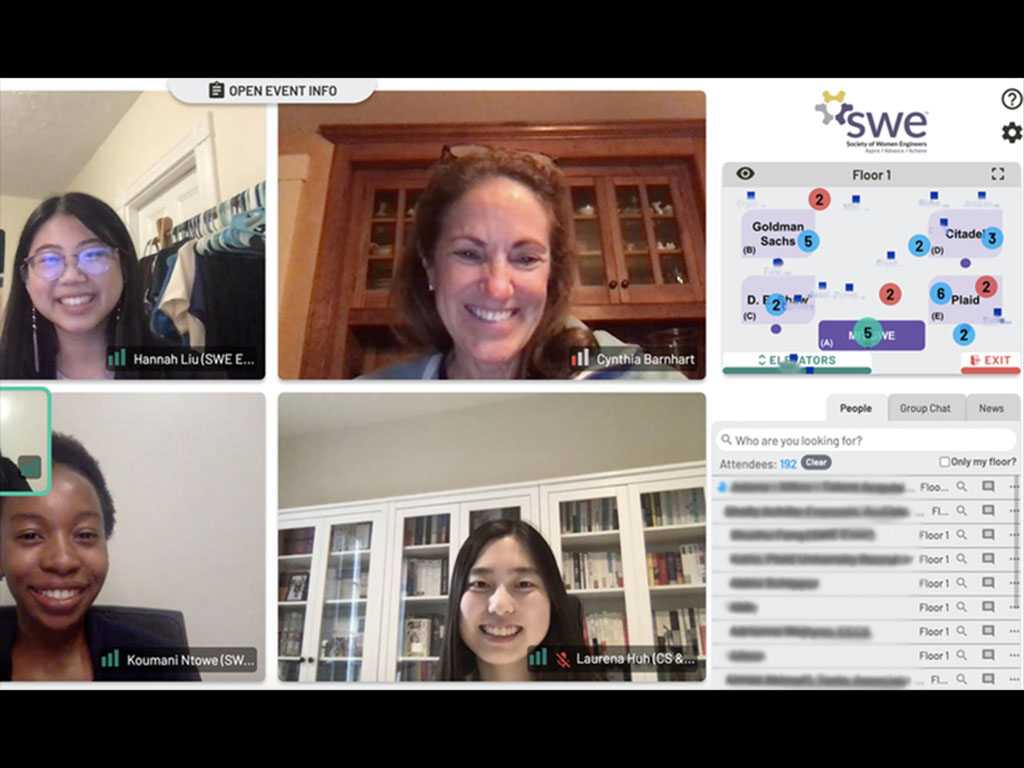 Some SWE members chatted with Chancellor Barnhart, who stopped by at the Virtual 41st Anniversary Celebration. Photo courtesy of the MIT Society of Women Engineers.
MIT SWE is comprised of five departments that include campus relations, career development, membership, outreach, and technology. Since 1979, SWE's mission and goals have been to inspire younger generations about engineering, encourage the notion of diversity in engineering, and to determine and advocate for the needs of women engineers at MIT and the broader community. "We are an organization that is really built on creating connections with people, so it was hard for us to learn how to create these same connections in a more virtual setting," says Ntowe.
In addition to promoting diversity among women engineers, SWE seeks to introduce students of all ages, from grade school to high school, to STEM fields. While the pandemic and transition to virtual programming has tremendously affected its outreach, it has also given SWE more opportunities to provide greater access to their programs to individuals beyond the Boston and Cambridge, Massachusetts, areas.
To welcome new first-year student members this academic year, Ntowe and Jeana Choi, a senior in electrical engineering and computer science and MIT SWE's co-president, worked together to hand pack over 100 care packages filled with miscellaneous MIT swag to send individuals across the United States. "We wanted to create a friendly and open environment for first-year students who have never stepped foot on MIT's campus or had a chance to attend Campus Preview Weekend to meet any of the upperclassmen in person," says Choi.
During the first few weeks of the fall semester, SWE also collaborated with other student campus organizations including Black Women's Alliance, National Society of Black Engineers, Mujeres Latinas, and Society of Hispanic Professional Engineers, to host a series of fun and interactive events, panels, and workshops to engage first-year students. A popular and well-attended event each year is SWE's resume workshop, where typically first-year students take advantage of one of their first career development opportunities.
Another major event this year was SWE's 41st Anniversary Celebration, where members had an opportunity to meet and network with companies and nonprofit organizations. With the hard work from SWE's career development department, there were over 300 student attendees, 30 companies, and a special appearance by MIT Chancellor Cynthia Barnhart and MIT SWE's faculty advisor Professor Sangeeta Bhatia. "The event was so well-run, and it was the best virtual career fair I have attended where I was able to talk and connect with people from various companies and organizations," says Elissa Ito, a sophomore in mechanical engineering and SWE member.
A new outreach venture the group has tackled this semester has involved engineering activity kits for elementary and middle school students. The idea is to design and produce pre-made activity kits for students from grades three through eight to have fun, do-it-at-home activities during a time when it may be hard to keep up with school. The initial plan was to create 400 kits, but the idea gained popularity on social media and the group received over 35,000 individual signups. Now, MIT SWE is working on funding and logistics to meet the demands for these kits to send out to as many students as they can. The goal of these activity kits is to get more young people more interested in STEM and engineering.
A major priority of SWE is to raise awareness for women in STEM in the future by creating a supportive community at MIT. Over the summer, MIT SWE conducted a large-scale survey to the undergraduate community to learn about peoples' perceptions of SWE and suggestions on how to be more inclusive regardless of an individual's race, gender, or sexual orientation.
"There are so many people with all these new innovative ideas, and being able to converse with them on their visions for the future really puts everything into perspective of how motivated everyone is," says Choi. "We all value and love the community and want to make SWE a more welcoming place."