In spring of 2014, Jahnavi Kalpathy was weighing her options: She could remain at MIT and try to shake the floundering feeling that had plagued her since she arrived at the Institute. Or she could take a year-long leave of absence, using the time to reflect on her academic choices and find a clearer vision of her future. Leaving would mean missing friends and acclimating to a new class; staying would preclude the possibility of a fresh start.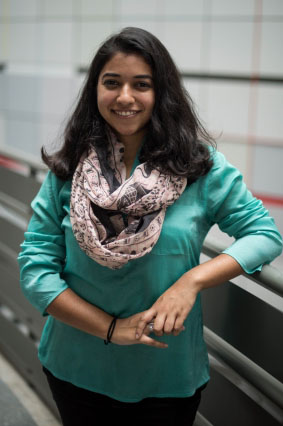 "I was going through a lot of patterns and I wasn't learning how to fix them," says Jahnavi, now a senior majoring in mechanical engineering. "I would start off each semester doing really well academically, then I'd lose momentum and become unmotivated halfway through. I'd procrastinate and pull all-nighters, withdraw from social events, and avoid calls from my family. I was unsure where my degree was taking me, or why I'd been admitted to MIT in the first place."
Jahnavi was struck by a persistent, nagging feeling that she didn't belong at the Institute. "I jokingly told everyone that I got in on 'the self-deprecating comedian quota' — but I also believed it," she says. In time, she learned that this feeling is called Impostor syndrome, where one is constantly afraid of being exposed as a "fraud."
The feeling was especially acute when she considered taking a leave from MIT. "I thought taking a break proved I was a failure," Jahnavi says. "But it turned out to be the best thing I could have done."
A new perspective and Tesla Motors
Following the advice of family members and mentors, Jahnavi moved home to California where she could enjoy a more comfortable pace and time with childhood friends. "I was able to experience different parts of my personality without feeling the pressure of coursework hanging over me," she says. "On the weekends, I traveled to San Francisco and explored the city with friends. I worked on creative projects for my own personal benefit, not just to get an assignment done or receive a grade."
She also corresponded regularly with an MIT alum and family friend who had taken a leave of absence. "She told me she had felt everything I was going through. She helped me build a new perspective that let me come back to MIT stronger and more ready."
To prepare for her return to MIT, Jahnavi took classes in fluid mechanics, thermodynamics, and aerodynamics at a local community college. "I found there was a lot less pressure at a state school, and I was more comfortable reaching out to professors when I didn't understand something," she says. "I did really well in these courses, in large part because I learned to ask for help when I needed it."
Jahnavi also completed two internships in the manufacturing and test departments of Jabil Circuits and Tesla Motors, which made her feel productive and valued. "I was contributing to teams and larger projects, which helped me reevaluate the stress of MIT and realize that my college experience is only a small part of what I can accomplish as an engineer and as a person."
Her internship at Tesla Motors also gave her a newfound interest in sustainable design. "I changed my mechanical engineering concentration to sustainable development and energy because of my time at Telsa," she says. "I was inspired to create products that improve the way humans interact with the environment."
By students, for students
Upon returning to MIT, Jahnavi joined a support group for returning students. "About seven or eight of us met once a week with a psychiatrist from Mental Health and Counseling and a dean from Student Support Services," she says. "It was helpful to connect with students like me who were trying to find new communities and make MIT home again. The perspective I gained during my year away actually helped me to form stronger friendships with my classmates."
David Randall, senior associate dean of student support and wellbeing, says "Jahnavi is an example of the leave process working just the way it should. She made the decision to leave, utilized all of the right resources, and chose to come back only when she felt ready." Randall thinks that more students will have a similar positive experience as a result of the recommendations coming out of the undergraduate leave and return review last spring. "Students are feeling generally more comfortable about the leave process and about the new leave of absence option most especially."
Today, Jahnavi knows that ups and downs do not make an impostor. "We all struggle. And I am still trying to accept myself as a work in progress," she says. She is considering post-graduation plans and gravitates toward using her engineering degree to help other people. She has taken multiple classes that focus on designing technology for and with developing communities around the world. As part of a D-Lab class, she traveled to Tanzania during IAP to show farmers how to build and operate a bicycle-powered corn-thresher.
In September 2016, Jahnavi spoke to the incoming first-year class as part of the annual "By Students, For Students" forum. The event provides an opportunity for upperclassmen to share personal challenges they have faced at MIT and describe how they sought help, and ultimately, how they persevered. Students take the lead in organizing the event with logistical support from Student Support Services (S3) and the Office of Undergraduate Academic and Advising Programming.
Addressing the crowd, Jahnavi shared what she would tell her younger self arriving at MIT for the first time: "Always be willing to ask for help. When you're on top of your work, you feel comfortable reaching out. When you're behind, you feel less comfortable doing so — but that is when help-seeking is most important."
"When I feel like asking for help will pose a burden to someone else, I stop and notice that feeling. That feeling is a reminder to connect."
For a complete list of the support resources available to MIT students, visit resources.mit.edu/support.
For more information on taking a leave of absence from MIT, visit studentlife.mit.edu/s3/requesting-leave.