On a pedestal stands a pale yellow bud, which reveals a mosaic of bright colors when opened.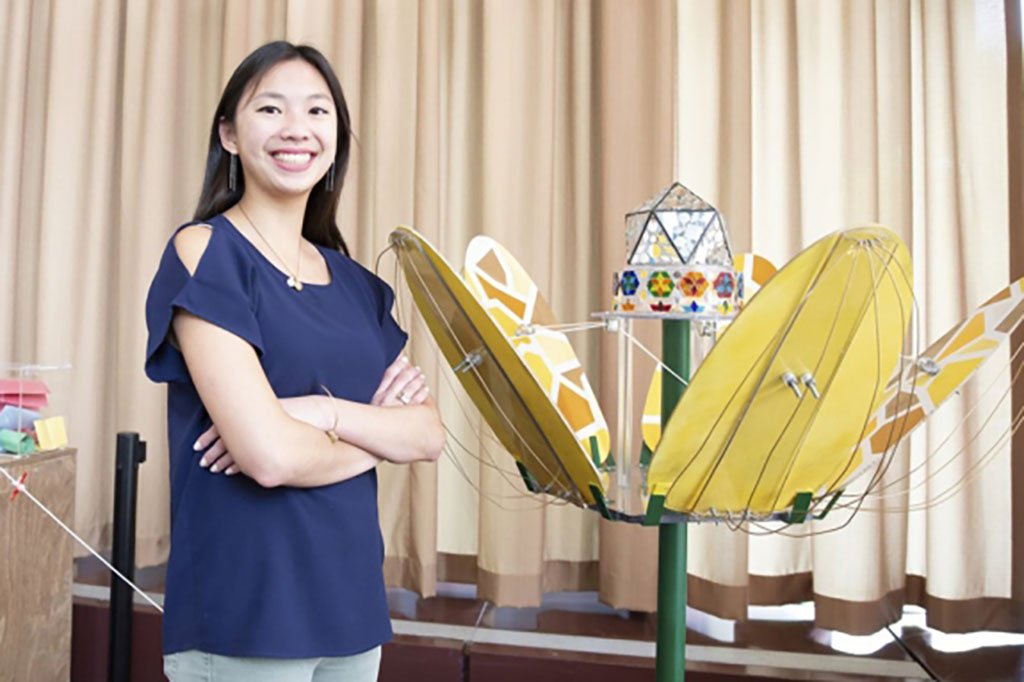 Stephanie Chou '19 stands with her kinetic art sculpture, "Mess of Gold." Photo: Maisie O'Brien
"I thought it would be meaningful to build a piece that represents how it's OK to show what's on the inside, even when it's confusing or all over the place. It's good to let people know who you are as a person," says Stephanie Chou '19, who built a kinetic art sculpture to encourage members of the MIT community to express themselves and find support in challenging times.
Her piece consists of a bud that uses a lever which, when cranked, reveals a rainbow-colored glass interior surrounded by yellow petals. She calls it a "Mess of Gold."
"Yellow is always a happy and positive color. It's the color of the sun and smiley faces, and it brightens you," Chou says when asked about her choice of the color yellow.
But this is not the only reason she chose yellow as her sculpture's central hue. One of Chou's best friends, Katherine Hunter, loved yellow roses. Unfortunately, Hunter, an MIT student, passed away after a brief illness in 2017. Dealing with her friend's passing and the pressure of schoolwork affected Chou's well-being.
"I had never really dealt with grief or depression before. After losing Katherine, I struggled with how to cope with my feelings, while also completing schoolwork and trying to re-understand the world in a new way," says Chou.
During this challenging time, Chou sought help from friends and support resources on campus. She also approached her UROP advisor, professor of mechanical engineering Maria Yang, with an idea to build an engineering-intensive artwork that would honor the memory of her friend and offer comfort to others who interact with it.
"I think the sculpture is a deeply felt expression of hope and renewal, manifested in a uniquely MIT way," says Yang. "It's clear that Stephanie drew on her background as an engineer, but also as someone who is creative, playful, and caring to create the piece."
With a mission in her head and a blueprint in her hand, Chou applied to the MindHandHeart Innovation Fund and was awarded funding to design the kinetic art sculpture.
"MindHandHeart gave me a lot of different resources and introduced me to professors who were interested in kinetic art and mental health in general. After speaking with them I was able to apply for the grant and come up with my designs," says Chou.
Grateful for the support, Chou's mechanical artwork is her way of letting MIT community members know they are not alone in their struggles, and that there are support networks available — one only needs to reach out to them. The sculpture is on display on the third floor of the Stratton Student Center, and includes a box for passersby to drop notes expressing their thoughts and emotions.
Chou graduated this spring, and is heading to the West Coast to join a cybersecurity company. She hopes to use the experience and skills she gained at MIT to help build communities where everyone feels they belong.
"MIT poses many challenges, but it also teaches you how to tackle them, how to stay motivated, and how to just keep going," Chou reflects. "I'm grateful to know that I can do almost anything I want to do. It's a great feeling."